History and Culture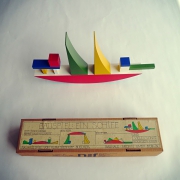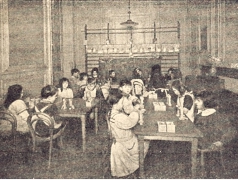 We can imagine easily that there was the play such as the building block for a long time. In 1693, John Locke announced that dice and playthings with letters on them is effective for teaching children the alphabet by playing. It is one of the first references about the building block.
In 1838, Friedrich Froebel who founded the first kindergarten of the world designed "Froebel Gifts" based on building blocks principles.
Master of modern architecture ,Frank Lloyd Wright played with toy blocks "Froebel Gifts" in the childhood age. He looked back as follows.
"For several years I sat at the little Kindergarten table-top . . . and played . . . with the cube, the sphere and the triangle—these smooth wooden maple blocks . . . All are in my fingers to this day . . ."
The legendary Bauhaus in 1924 designed the beautiful blocks "Bauhaus-Bauspiel", and it's reproduced as this historic replica by Naef.
In Japan, Shin Endo, Architect, designed the building block for children of the school, when he designed the lecture hall.
In 1958, Kurt Naef, Swiss craftsman, produced "Naef Spiel"(building brick game, basis is a diagonally incised cube) and we know Naef as the famous toy maker today.
Thus, building blocks(toy blocks) are devised as an educational tool and are widely enjoyed as play objects.
We'll emphasize that playing with toy blocks is thus closely rerated to the creative activity of architects.
AIDA BLOCK、TOY BLOCK HOUSE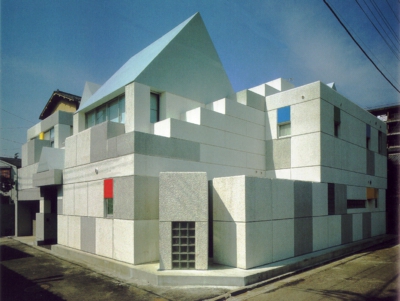 Takefumi Aida published his 10 works "

TOY BLOCK HOUSE I to X" from 1979 to 1984. These works were designed by the method in which blocks are stacked. For this method, Aida devised the architectural blocks as "

AIDA BLOCK".
Aida was affected by Johan Huizinga's theory of civilization that "Play is older than culture", and he succeeded in taking in "playfulness" for "serious" modernism architecture.
About Toy Block House I, he won The JIA (The Japan Institute of Architects) Young Architect Award in 1982 and won The JIA Twenty-five Year Award that is given to acknowledge "an architectural design that has contributed to the community environment for over 25 years, endured the climatic elements to maintain a pleasant appearance, and thereby communicated the significance of architecture to society".
About joy of playing with toy blocks, Aida says,
"We gain pleasure from toy blocks not only in piling them up but in seeing them collapse. There is , in other words, pleasure in both their construction and destruction."
TOY BLOCK PROJECT -new activeties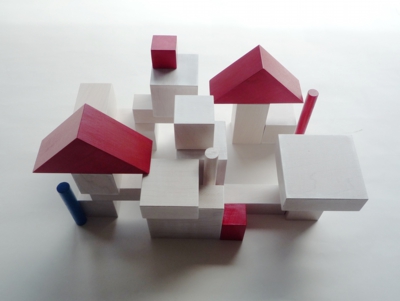 In 2014, 30 years have passed since completion of Toy Block House X. We have launched newly "TOY BLOCK PROJECT" as the evolution of "Toy Block House" activities.
Today, design activities were generalized, so that Our interest is going to new relationship, new interaction and new integration between user and creator in the field of architecture.
1)Toy Block House(interactive design)
2)workshop playing with toy blocks
3)The world of Toy Blocks(product design, media content, etc)

Please contact us, if you are interested in TOY BLOCK PROJECT.
CONTACT